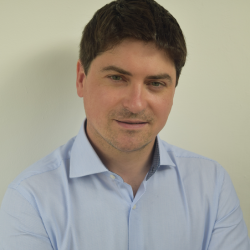 Conor Purcell Ph.D
Dissemination & Communication Liaison
Ph.D Earth Science from Cardiff University, School of Earth & Ocean Science, UK
MSc Meteorology & Climate Science, University College Dublin, Ireland
+353 1 524 1608 (ext 36)
HPC Hub Dublin
Conor works on ICHEC's communications and dissemination activities. Before joining ICHEC he had a career in academia, taking up PhD and postdoc positions between 2010 and 2016, but more recently working as a science and technology journalist. He has written for publications including Science, New Scientist, The Sunday Times and Technologist, amongst many more, and is a regular contributor at the Irish Times.
During a postdoctoral year at University College Dublin, Conor also took a position as Communications Manager on the UCD Evolution Garden project which won a gold medal at Bloom in the Park festival 2016. In 2016 he also founded Wide Orbits, an online not-for-profit magazine for Ideas, Issues and Culture, where he acted as editor-in-chief. As well as editorial duties, this work involved leading a team, commissioning articles, acting as webmaster and operating social media.
Conor's PhD is in Earth Science, where his project involved running climate models on supercomputers in close collaboration with the Alfred Wegener Institute for Polar and Marine Research, in Germany. During that period he co-authored on a scientific paper published in Nature.
He is passionate about writing, music, art, history and science
Publications

Increasing stomatal conductance in response to rising atmospheric CO2, Purcell, C., et al. 2018, Annals of botany.

 
 

Abrupt glacial climate shifts controlled by ice sheet changes, Zhang Z., Lohmann G., Knorr G., Purcell C. 2014, Nature.

 
 

Agulhas salt-leakage oscillations during abrupt climate changes of the Late Pleistocene, Marino G.et al. 2013, Paleoceanography.

 
 

The influence of Agulhas Leakage dynamics on the Atlantic Meridional Overturning Circulation during glacial-interglacial transitions, Purcell C. et al., 2012, EGU conference abstract.

 
 

Atmosphere-ocean interactions in the Pacific Southern Ocean, Lamy F. Gersonde, R., Purcell, C., Winckler, G., Tiedemann, R., Knorr, G., 2014, AGU conference abstract