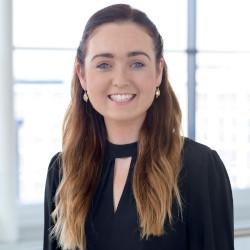 Orna Fennelly, Ph.D.
Health Data and Analytics Activity Lead
B.Sc. Physiotherapy, UCD.
Ph.D. Health Sciences, UCD.
+353 1 529 1044
HPC Hub Dublin
Orna leads the health data and analytics activities at ICHEC. She joined ICHEC in February 2020 under the Health Research Board (HRB) funded project Proof of Concept Model for DASSL (Data, Access, Storage, Sharing, Linkage). This project aims to develop a proof of concept for technical infrastructure that will inform a national solution for the safe and controlled access, storage, sharing and linkage of research data and routinely collected health and social care datasets. Orna is also the Chair of our EDI Committee. 
Prior to joining ICHEC, Orna worked as an eHealth postdoctoral researcher at the Insight Centre for Data Analytics in UCD where she collaborated with the Health Service Executive (HSE) and National Health Service (NHS, UK) on several projects to inform the implementation of the electronic health record (EHR) and the capture and utilisation of clinical data within the EHR. During her time at Insight, Orna was also awarded an Evidence Synthesis Ireland (ESI) Fellowship to collaborate with the Knowledge Translation Program in Toronto Canada on a project which explored the implementation of artificial intelligence (AI) in healthcare.
During her time at UCD, Orna has also been involved in a number of projects including the evaluation of a national physiotherapy-led health service initiative and an automated texting system to manage waiting lists in outpatient departments. She has also lectured on several modules within the School of Public Health, Physiotherapy and Sports Science at UCD and worked as a clinical physiotherapist within the Irish health service. 
Publications
Fennelly, O. Cunningham, C. Grogan, L. Cronin, H. O'Shea, C. Roche, M. Lawlor, F. O'Hare, N. (2020) Successfully implementing a national electronic health record: a rapid umbrella review. Int J Med Inform. doi: 10.1016/j.ijmedinf.2020.104281.
Fennelly, O. Grogan, L. Reed A. Hardiker, N.R. (2021) Use of standardized terminologies in clinical practice: a scoping review. Int J Med Inform. doi: 10.1016/j.ijmedinf.2020.104431.
Tricco, A.C. Darwesh, N. Thomas, S.M. Fennelly, O. Brar, R. Straus, S.E. (2020) Implementation of Artificial Intelligence in Healthcare: A Scoping Review. In: Advances in Evidence Synthesis: special issue Cochrane Database of Systematic Reviews; (9 Suppl 1) doi: 10.1002/14651858.CD202001
Fennelly, O. (2019) Clinical Information Capture in the Electronic Health Record: Literature Review and Key Considerations. IBSN: 978-1-78602-143-4. Available at: https://www.ehealthireland.ie/strategic-programmes/electronic-health-record-ehr-/information-resources/
Fennelly, O. Blake, C. FitzGerald, O. Caffrey, A. Fletcher, L. Smart, K. Corcoran, S. Ní Shé, É, Casserly Feeney, S. Desmeules, F. Cunningham, C. (2020) 'Advanced musculoskeletal physiotherapy practice: the patient journey and experience'. Musculoskeletal Science and Practice. DOI: 10.1016/j.msksp.2019.102077.
Fennelly, O. Blake, C. FitzGerald, O. Breen, R. Ashton, J. Brennan, A. Caffrey, A. Desmeules, F. Cunningham, C. Advanced practice physiotherapy-led triage in Irish orthopaedic and rheumatology services: national data audit. BMC Musculoskeletal. DOI: 10.1186/s12891-018-2106-7.
Fennelly, O. Blake, C. FitzGerald, O. Breen, R. O'Sullivan, C. O'Mir, M. Desmeules, F. Cunningham, C. 'Advanced Musculoskeletal Physiotherapy Practice in Ireland: a National Survey.' Musculoskeletal Care: 1-8. DOI:10.1002/msc.1351.
Fennelly, O. Blake, C. Desmeules, F. Stokes, D. Cunningham, C. (2017) 'Patient Reported Outcome Measures in Advanced Musculoskeletal Physiotherapy Practice: A Systematic Review.' Musculoskeletal Care. DOI:10.1002/msc.1200.