13 March 2021
10.30 - 12.00
Free
online
Academic Outreach - Webinar for UCC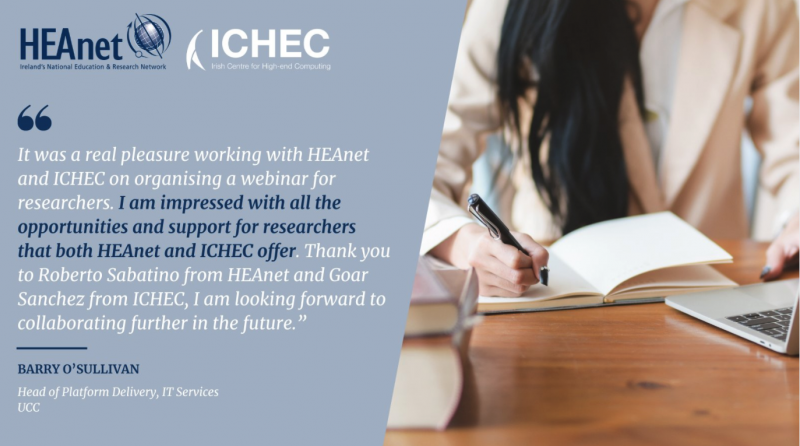 ICHEC Outreach to HEIs: UCC RSS Workshop: Collaboration Opportunities with ICHEC and HEAnet 
HEAnet is Ireland's National Education and Research Network. By delivering high-speed internet connectivity and IT shared services to all levels of the Irish education sector, HEAnet connects Irish researchers to fellow national educational and research networks in Europe, the USA and the rest of the world. 
A key strategic goal for ICHEC and HEAnet is to work closely with the research community.
In support of this goal, UCC Research Support Services (RSS) in collaboration with HEAnet and ICHEC hosted a Workshop on HEAnet and ICHEC services and collaboration opportunities. The event took place on Thursday 11th March and the presenters included Roberto Sabatino, HEAnet Research Engagement Office and Goar Sanchez, National Service Programme Manager at ICHEC.
Topics covered in the Workshop included:
Off-the-shelf services that HEAnet offers.

Opportunities for collaboration with HEAnet on topics of mutual interest including QCI/QKD, network security, network monitoring, network control,  Trust and Identity, Open Science & Research Data Management.

Support in the preparation of research proposals and their execution, general consultancy.

Support in the implementation of thematic research infrastructures and testbeds.

Opportunities in the area of Open Science, both nationally and internationally.
Success stories of support for researchers and exciting opportunities to access infrastructure and expertise to support their research were also be showcased.
In addition, details of several exciting international opportunities HEAnet can facilitate for researchers in Ireland were also covered at the workshop. They include:
OCRE

: If your research is in the area of Earth Observation or if you can show that your research will benefit greatly from the use of cloud services, you are eligible to receive vouchers to spend against the IaaS+ framework agreements. See

OCRE Cloud Funding for Research | OCRE (ocre-project.eu)

. The next call opens in March 2021.

DICE-EOSC, EGI-ACE

: If you are working towards adopting open science principles for your research (in any field) and you need support in terms of expertise, infrastructure and data services you can benefit from the DICE-EOSC an EGI-ACE projects where you will get, for free, the support you need. See:

Trust and identity (T&I) Incubator

: If you are working in the area of T&I and you have a research idea which you're unable to pursue (maybe because of lack of funding, or access to expertise), you can submit your idea to a panel of GEANT experts who may do the work for you. You can join in the work, and there's potential for your time being funded. Or you can choose to just monitor and steer the work. Each incubator lasts up to 6 months.

GEANT Innovation programme

: through this programme you are eligible to up to €30K funding to pursue a project of relevance to GEANT and HEAnet. This launched on 23

rd

  February and runs to end 2021 with a view to renew in 2022.