Key Milestones
2005
Creation of ICHEC with seed funding from Science Foundation Ireland (SFI) and capital funding contributions from the Higher Education Authority (HEA) through the PRTLI4-funded CosmoGrid project. ICHEC opens offices in Galway (6 staff) and Dublin (2 staff).
Procurement of the first national Supercomputer completed with equipment from IBM (Walton) and Bull (Hamilton). 
First appearance of an Irish system in the Top 500 (Walton, 3.14TFlops at position #204).
Start of first national HPC Service in Ireland.
ICHEC runs its first HPC courses (Intro to HPC and Intro to the Message Passing Interface, MPI) at the Tyndall National Institute in Cork.
Appointment of Dr Dennis Jennings as ICHEC's first independent Chair of the Board.
2006
New Governing Board chaired by Dr. Dennis Jennings.
Professor Luke Drury (Dublin Institute for Advanced Studies) appointed as interim Director.
Establishment of ICHEC's Science Council, and award of first Class A projects (first Class A PI is Professor Jiri Vala, NUI Maynooth with a project entitled "Topological phases in quantum lattice systems").
2007
2008
2009 
Professor Jim Slevin appointed ICHEC Director.
ICHEC secures 3 year funding (2009-2011) from Science Foundation Ireland for the National Academic HPC Service.
ICHEC moves its Dublin base to larger offices "the hub", its current location, on the same site.
Installation of ICHEC's 3D visualisation lab. 
Start of ICHEC's Industry engagement programme, and first commercial contract with Tullow Oil.
ICHEC staff grows to 20 personnel.
2010
ICHEC awarded status of NVIDIA CUDA Research Centre, one of only 7 worldwide at the time.

David Luebke (NVIDIA Distinguished Inventor Director of Research NVIDIA Corp.) explained that ICHEC had been selected as a CUDA Research Center based on the vision, quality, and impact of the research leveraging CUDA technology carried out in the Centre.

 
Ireland becomes a founding member of PRACE AISBL.
Stokes undergo technology refresh, increasing its processing power to 36.6 TFlops and gain position #332 in the Top 500.
First participation as exhibitor to the International Supercomputing Conference, ISC'10 in Hamburg.
2011
ICHEC provides a demonstration of its capability to Minister Sean Sherlock TD (Minister of State with responsiblity for Research & Innovation) at the European Science Foundation book launch "European success stories in industrial mathematics".
PRACE AISBL formally launches 
2012
2013
First participation of ICHEC as exhibitors to the BT Young Scientist Exhibition  
ICHEC procures Ireland's new national Supercomputer, Fionn.
ICHEC launch Fionn with Minister Sean Sherlock. The name Fionn was proposed by Oscar O'Donoghue and

Lauren Boyle

following a competition open to all schools in Ireland.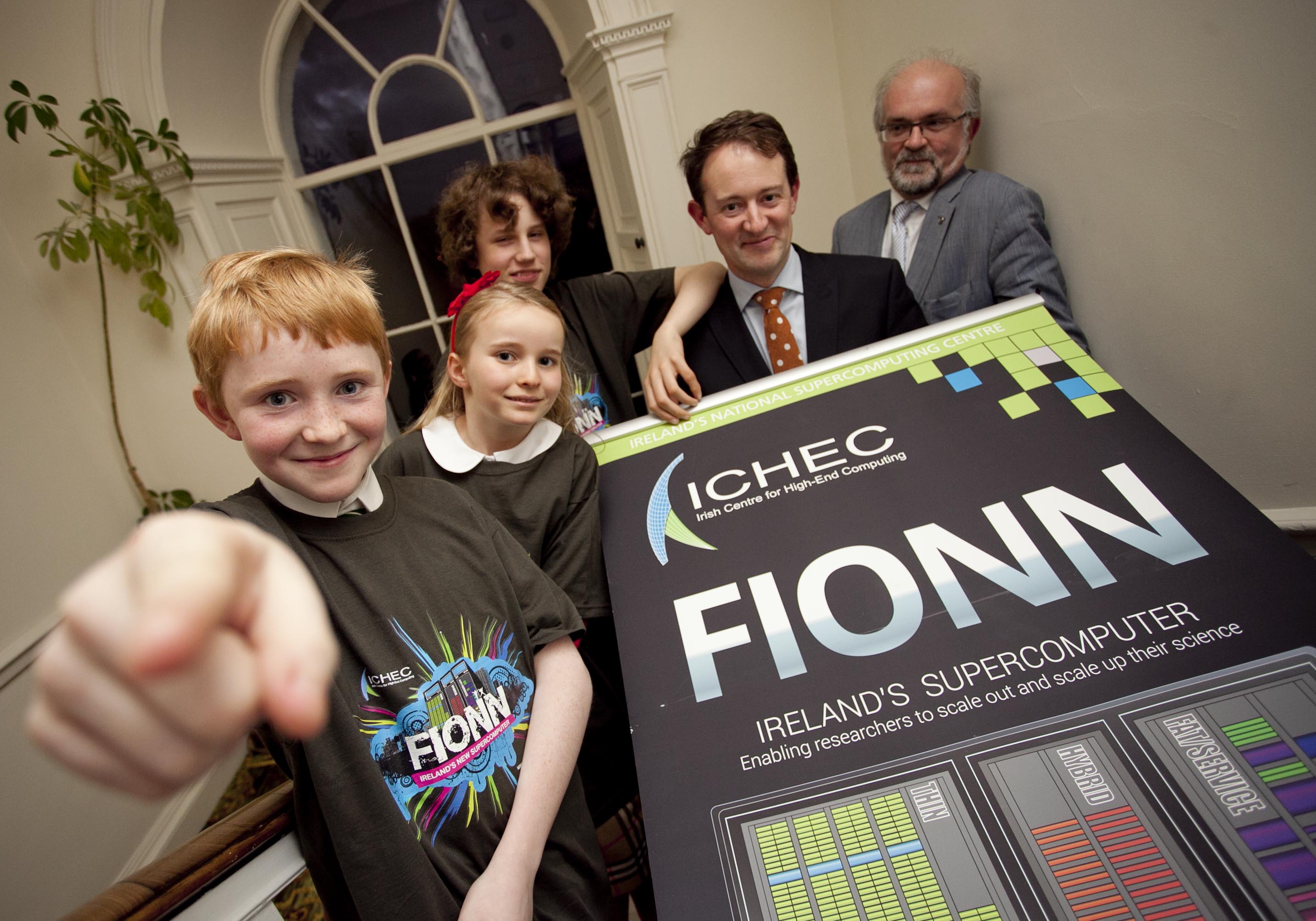 ICHEC re-launches its industry engagement programme focused on bridging the skill gap in Irish SMEs and Startups.
The Department of Jobs, Enterprise & Innovation and the Department of Education & Skills (with the Higher Education Authority) co-fund ICHEC's new funding cycle for 2013-2015. Ministerial launch at the Royal Irish Academy.
2014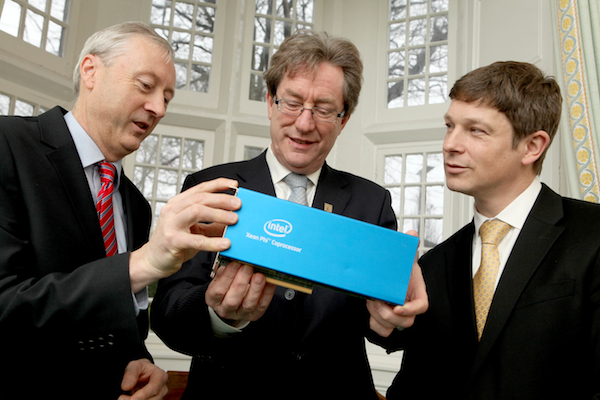 2015
ICHEC joins LERO programme under SFI Research Centre Call for 2013 securing €970,250 in partnership with Tullow Oil PLC and DataDirect Networks.
Workshop on "Technical computing and the economy:competitiveness and, job creation". 
First participation as exhibitor to the Supercomputing Conference, SC'15, in Austin TX. 
ICHEC holds its first workshop at SuperComputing'15  as co-organisers
EPA launches new report on Climate Change for Ireland and Climate Adaptation, published by ICHEC's Dr Paul Nolan.
Creation of the CSO - ICHEC partnership and Irish Sandbox under the auspices of the United Nations Economic Commission for Europe.
ICHEC secures participation in its first EI Innovation Partnership with Becton Dickinson & Company through its collaboration with Professor Dermot Kenny of RCSI.
ICHEC becomes a proud member of Xilinx alliance programme.
Under Horizon 2020 programme, ICHEC secures €1,078,860 from SESAME Net, ESCAPE and PRACE 4IP projects. 
2016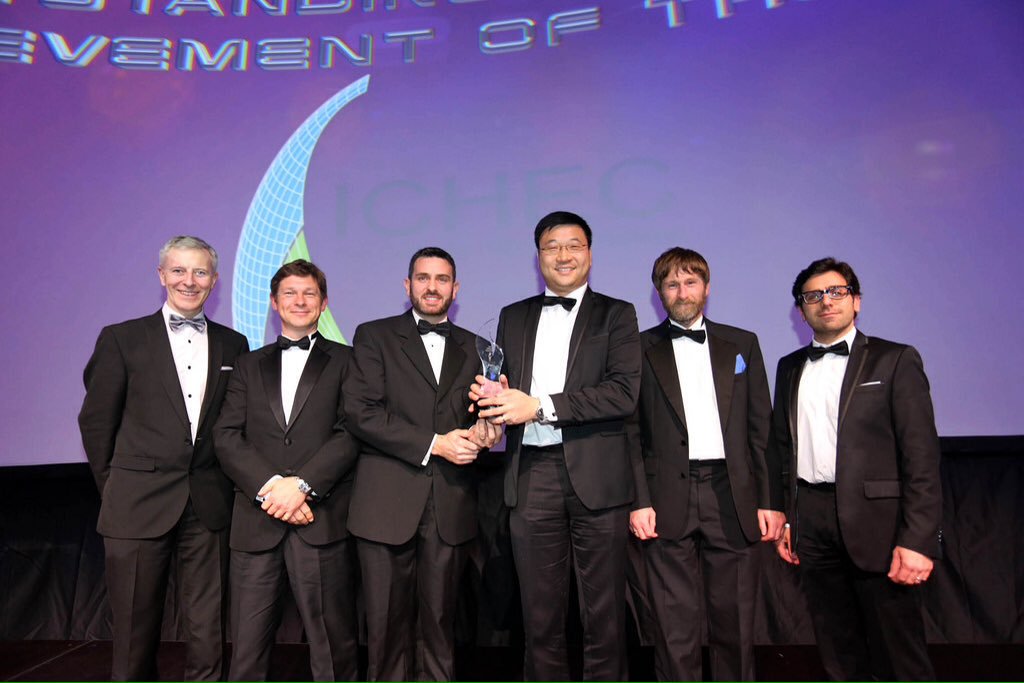 Celebration of ICHEC's 10th Anniversary with a workshop on "Roberto Viola on HPC and Competitiveness in Ireland and Europe". European Commission Director General of DG-CONNECT, Dr Roberto Viola, provide the keynote addressed.
 

ICHEC secures its 2nd EI innovation partnership with Mediolanum Financial Limited, the 1st partnership of its kind with the banking and financial sector in Ireland.

Under Horizon 2020 programme, ICHEC successfully secure €610,900 for READEX, E-CAM, and EiSWACE projects.
ICHEC's headcount reaches 30.
ICHEC Director receives top French Honour, one of France's highest honours, the title of Chevalier de l'Ordre des Palmes Académiques (Knight of the Order of Academic).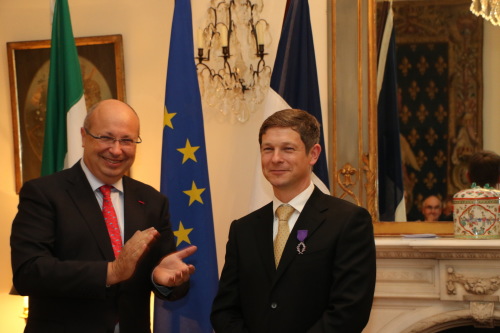 ICHEC received confirmation of funding for Ireland's next national academic supercomputer. Funded was awarded by Science Foundation Ireland (SFI) as part of its Research Infrastructure 2015 call (category A).
2017
ICHEC awarded PRACE Training Centre status.
Creation of ICHEC's Oil & Gas activity.
Procurement for Ireland's next national academic supercomputer now underway, with opening of the new service scheduled for Q1-2018.
Under Horizon 2020 programme, ICHEC successfully secure €730,860 for PRACE 5IP and HPC3 Europa projects.
Five year's supporting BT Young Scientist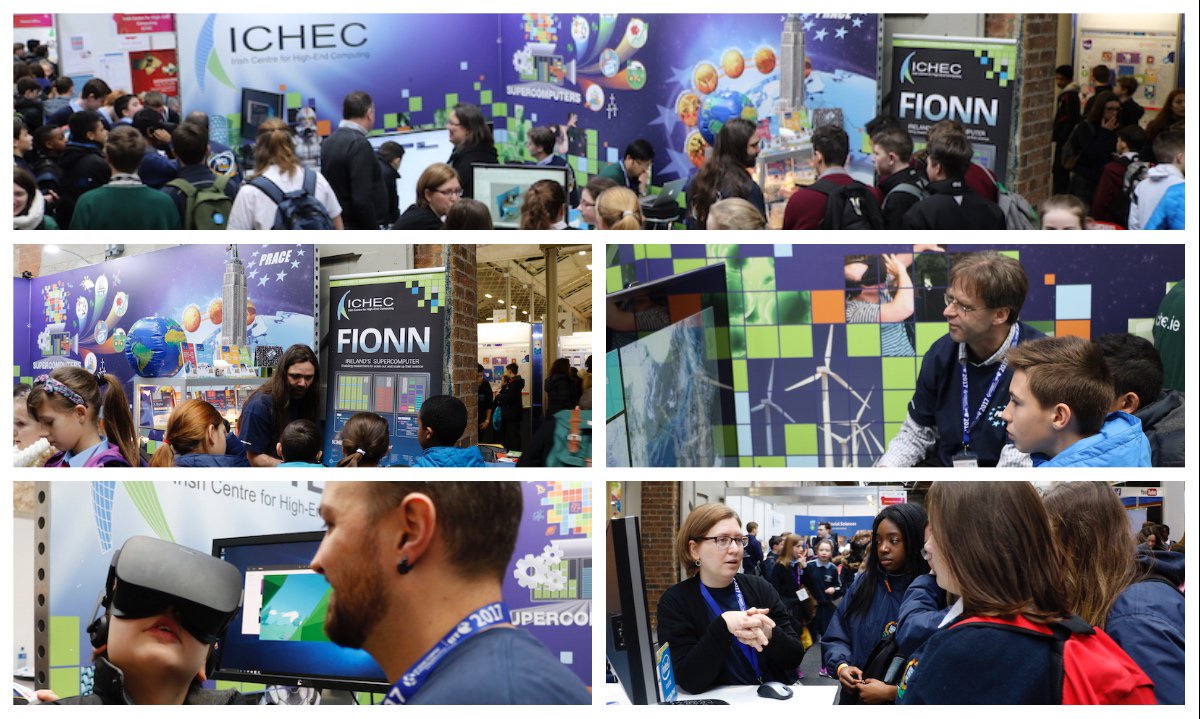 2018
2019