ICHEC Collaborates on Ireland's First Masters in Artificial Intelligence (AI)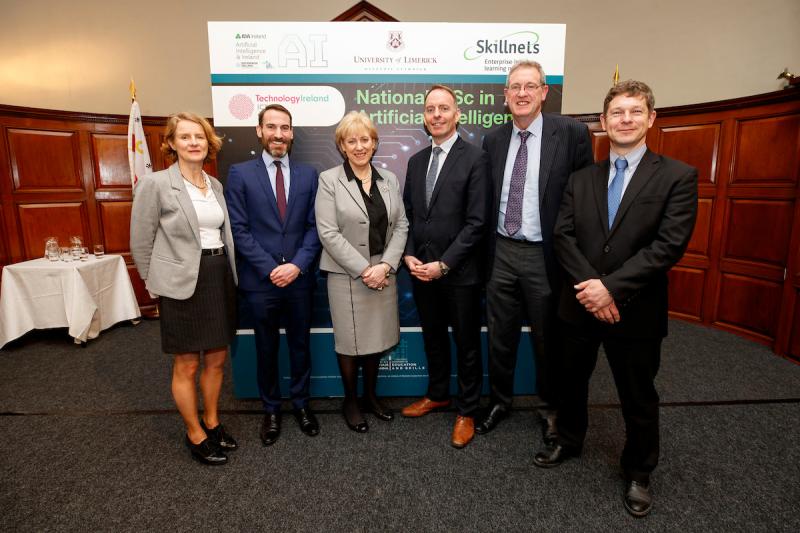 Ireland's first Masters in Artificial Intelligence (AI) was launched in Dublin on Thursday 25th January in response to a growing demand by industry for AI skills in Ireland. The programme, which will run in University of Limerick from this September 2018, was launched this morning by the Minister for Business, Enterprise and Innovation, Heather Humphreys (TD) at the Royal College of Surgeons in Ireland.
Skillnets awarded funding to Technology Ireland ICT Skillnet last year to develop this Masters in Artificial Intelligence through its Future Skills Needs Programme (FSNP). The key focus of this programme is to facilitate collaborations between enterprise, academic institutions and industry training providers to develop innovative new programmes that specifically address the future skills needs of businesses and emerging skills gaps within growth sectors.
This new innovative course will include a fast-track Introductory Course to be developed in collaboration with the Irish Centre for High End Computing (ICHEC), Ireland's national centre for HPC. The design of the entire programme will be led by ICT companies under the aegis of Technology Ireland ICT Skillnet and University of Limerick. Companies that have been involved in developing the programme to date include Accenture, Advanced Metadata, Analog, Arvato, Citibank, Ericsson, Fujitsu, GM, Google, IBM, Image-Vision, Microsoft, Movidius, Nokia Bell Labs, Pramerica, SAP, Storyful, Sytorus, Valeo and Zalando.
There are currently over 80,000 tech professionals working in Ireland, with over 8,000 more IT jobs forecast to be created this year. Skillnets collaborated with IDA Ireland to develop this leading-edge programme in order to address the growing need for Artificial Intelligence skills in Ireland.
Speaking at the launch of the Masters today, Minister for Business, Enterprise and Innovation, Heather Humphreys TD said, "I welcome this new programme that will be delivered by the University of Limerick with the Irish Centre for High End Computing (ICHEC). Artificial Intelligence is shaping a new reality for Irish businesses, creating exciting new opportunities for innovation across all industries. To keep apace with these fast-changing technologies, it's essential we have a workforce with the skills needed to drive this digital revolution." 
Chief Executive of Skillnets, Paul Healy added, "Artificial Intelligence will have a transformational effect on business and on society over the coming years. In supporting the skills needs of over 14,000 companies in Ireland, we consistently hear of both the opportunities and risks presented by AI. Although a thriving AI ecosystem is taking root in Ireland, we know that a significant skills shortage in Artificial Intelligence is emerging which needs to be addressed. We see the launch of this Master's programme as a great opportunity to not only respond to the needs of business, but also to grow our economy by making Ireland a centre of excellence in Artificial Intelligence."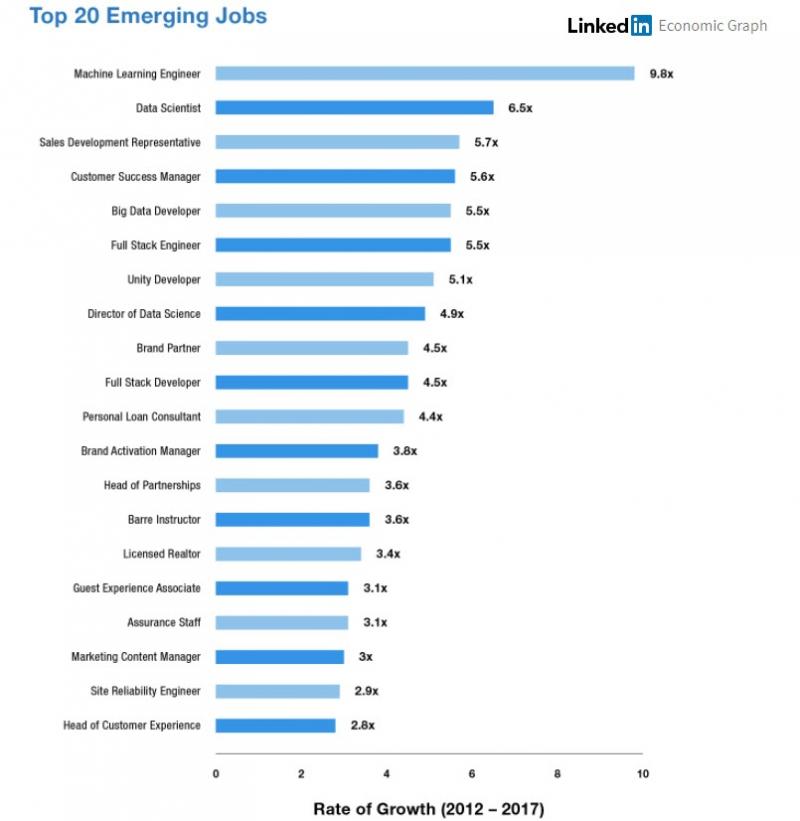 As pointed out by Ken Finnegan, Chief Technologist - IDA Ireland Technology & TechIreland Advisor, graduates will have fantastic career opportunities. According to Linkedin:
Machine Learning Engineers, Data Scientists, and Big Data Engineers rank among the top emerging jobs on LinkedIn.
Data scientist roles have grown over 650% since 2012, but currently, 35,000 people in the US have data science skills, while hundreds of companies are hiring for those roles according to LinkedIn.
There are currently 1,829 open Machine Learning Engineering positions on LinkedIn.
Job growth in the next decade is expected to outstrip growth during the previous decade, creating 11.5M jobs by 2026, according to the U.S. Bureau of Labor Statistics.