ICHEC Receives Honours in 2012 HPCwire Readers' Choice Awards
[Salt Lake City, Utah, USA] November 13, 2012 – The Irish Centre for High-End Computing (ICHEC) has been recognised for the 'Most Innovative Use of HPC in Financial Services' in the prestigious HPCwire Readers' Choice Awards. The awarding ceremony took place yesterday in Salt Lake City, USA, during the 2012 International Conference for High Performance Computing, Networking, Storage and Analysis (SC12), the largest High Performance Computing (HPC) conference in the world. HPC or supercomputing refers to the use of supercomputers to carry out complex and demanding processing; its uses include the rendering of animated movies by Pixar, F1 car design by Ferrari and numerical weather forecasting performed by Met Éireann. Although relatively unknown, HPC is ubiquitous in modern society.
The highly coveted HPCwire Readers' Choice Awards have been awarded every year since 2003. The Readers' Choice awards are determined through online polling of the global HPCwire audience. ICHEC now joins the roster of awardees, which already includes The Boeing Company (HPC in Manufacturing), Ferrari Formula One Team (Automotive), GlaxoSmithKline (Life Sciences), JPMorgan Chase (Financial Services), Shell Oil Company (Oil & Gas), and Toy Story 3, Pixar animation (Entertainment). The awards are the most distinguished recognition given by the HPC community to its own each year, analogous to that of the Academy Awards within the film industry.
ICHEC was awarded the Readers' Choice Awards in the 'Most Innovative Use of HPC in Financial Services' category with 40.4% of the total reader vote - one of the highest margins in the election results in 2012. ICHEC held off formidable competition from some of the largest leading companies in this space worldwide, including Appro, IBM, Citi Group, Maxeler Technologies and Murex. "This award highlights the notable and high-profile work of ICHEC developers. We are delighted that it will strengthen the reputation of Ireland as an early adopter of novel technology and help place our country in the spotlight of HPC," said Prof. JC Desplat, ICHEC Director.
The award was granted for two projects led by ICHEC computational scientists Gilles Civario and Renato Miceli, where they enabled a London-based, world-leading financial services company to dramatically speed-up and improve the quality of its real-time risk management tool chain. They utilised the latest GPU accelerator hardware and software from NVIDIA to carry out over 1,000 times more computations than was previously possible leading to 30x more precise results. "The speed-ups we delivered to our client's application allowed for more accurate results delivered in less time, both of which are extremely important in financial risk simulations. We used these aspects to study the fluctuations in the market prices and drive the impact of financial transactions. For any company who deals with risk management, the added value is immense," said Mr. Miceli.
Gilles Civario and Renato Miceli presented their work at the 2012 NVIDIA GPU Technology Conference (GTC) held in San Jose, California, which is the premier event worldwide for cutting-edge HPC software development using graphical processors. "The project generated huge interest from the scientific and industrial communities at this year's GTC in the US," said Mr. Civario. "Our talk was very well received and brought us a lot of feedback and opportunities during and after the event," he completed. The awarded work employed NVIDIA hardware and software to empower European businesses and increase their competitiveness around the globe. "The HPCWire RCA 2012 award is an endorsement of ICHEC's ability to harness the power of GPGPU through efficient algorithmic and software design," said Sumit Gupta, general manager of Tesla accelerated computing at NVIDIA. "Through its successful industry engagement programme, ICHEC has enabled its client companies to gain a competitive edge in its market segment."
The full list of winners announced live from the HPCwire booth at SC12 is available on the HPCwire website, located at http://www.HPCwire.com.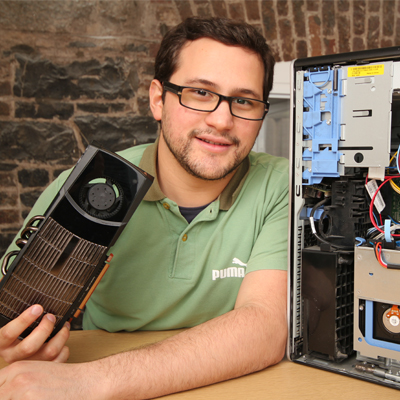 About ICHEC
The Irish Centre for High-End Computing (ICHEC) is the national High-Performance Computing Centre in Ireland with offices located both in Dublin and Galway. Established in 2005, ICHEC operates the national HPC service providing compute resources and software expertise for the research communities across all the main science disciplines through collaborative partnerships and programmes of education. ICHEC has grown to an organization recognised internationally as a partner of choice for HPC services and R&D enablement. Since 2010, ICHEC has developed an active industry engagement programme working on a consultancy basis in areas as varied as financial services, oil & gas, data analytics and renewable energy. ICHEC is co-funded by Science Foundation Ireland (SFI) and the Higher Education Authority (HEA), and hosted by NUI Galway. For additional information, visit http://www.ichec.ie .
About HPCwire
HPCwire is the #1 news and information portal covering the fastest computers in the world and the people who run them. With a legacy dating back to 1986, HPCwire continues to be the publication of choice globally by business and technology professionals from academia, government, science, and industry who are interested in high performance and computationally intensive computing. For topics ranging from the latest developments in systems, software, tools and applications, to middleware, networking and storage technologies, HPCwire delivers it all and remains the HPC communities' most reliable and trusted resource. For more information, visit: http://www.hpcwire.com.