ICHEC at School Summit 2018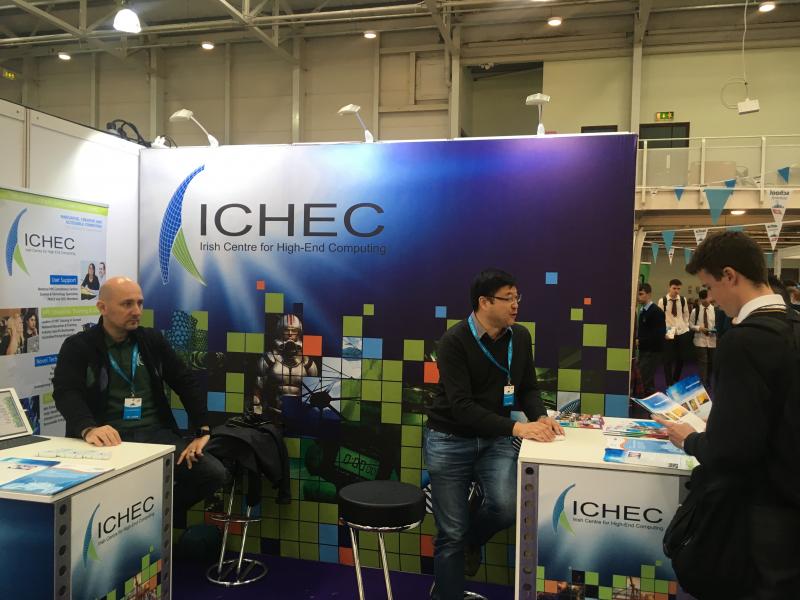 ICHEC at School Summit 2018
After a successful event in 2017, School Summit is back this week with two days at the National Show Centre in Swords, North County Dublin. Through a range of exhibits and discussions, Irish universities, companies and public sector bodies are aiming to help guide students with their career choices.
According to the Minister for Education, Richard Bruton, "School Summit 2018 is aimed to promote and create awareness among transition year and fifth year students about the options and opportunities that are available to them."
The Irish Centre for High End Computing (ICHEC) is one of the exhibitors at this year's event, who hope to encourage students to seek out career opportunities in STEM subjects that are increasingly relevant to high performance computing. It has a history of supporting students' interests in computing, and each year offers opportunities at its offices in Dublin and Galway.
In particular ICHEC is on the look out for enthusiastic transition year students, who they hope will propose projects aimed at working with supercomputers. This may appeal to those who like working with data and using computer languages to put ideas into action. Students with an interest, or established skillset, in programming are encouraged to get in touch.
Students and their teachers are also encouraged to make contact with ICHEC regarding the BT Young Scientist competition. Each year ICHEC hosts a stand at the event in Dublin, and are currently seeking interested candidates who are designing projects which could require the use of ICHEC's supercomputer.
School Summit 2018 comes just before ICHEC announce the launch of Ireland's next supercomputer, which has yet to be publicly named. Earlier in the year a public competition was held where school children across the nation were encouraged to research one of six pioneering Irish scientists, and pick the most appropriate candidate to name the new system. More on that coming soon.