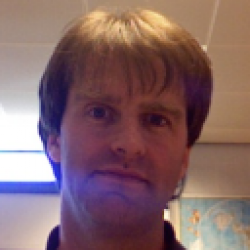 Alastair McKinstry
Environmental Programme Manager
MSc in Physics
B.A. Mod (Hons) in Experimental Physics
+353 91 397 868
NUI Galway
Alastair studied physics at Trinity College Dublin where he gained a B.A. Mod (Hons) in Experimental Physics, and later an MSc in laser physics for work on "Electrical Synchronisation of CD Lasers". 
Alastair worked for five years at Digital's High Performance Technical Computing group in Galway, where he optimised applications for parallel computing on Digital's Alphaservers. He later moved to the systems development team, where he worked on performance visualisation and cluster management tools for Digital/Compaq's Alphaserver SC Supercomputer. In this time he also worked part-time as a lecturer in Operating Systems at GMIT.
After this he worked at 3Com's Silicon Design Group in Galway, leading a small team doing performance analysis and system design of System-on-chip ASICS, and also Crevinn Teo, a start-up created by 3Com staff. In 2003 he moved to Oracle as Principal Engineer, working on Unix and Linux ports of Oracle. Here he was responsible for testing and releasing Oracles software on high-end systems, including database Clusters on all the clustering systems supported by Oracle and other Unix vendors such as Sun, IBM and Compaq/HP. After Oracle, he worked in a short-lived Satellite broadband startup called Ildana before joining ICHEC as system administrator in June 2006.
At ICHEC, Alastair works on performance optimisation of numerical codes, in particular climate codes, and the management of large datasets for climate use. He is currently completing a PhD part-time on Exoplanetary Climates at  NUI, Galway. Since starting back in academia he has presented work at AGSI, DIAS and public outreach to local astronomy groups.
He is a substitute representative for Ireland on the European COST action, and is member of RAS and IEEE.