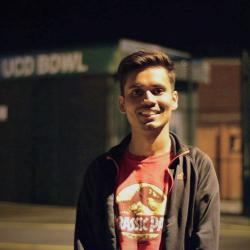 Divyajyoti, (DJ) graduated from University College Dublin in September 2021 with a B. Sc. (Hons) in Geology. In addition to having experience working in the field he actively engaged in the geo-computing as part of his studies. His first research internship at UCD in 2019 involved working with drones in the West of Ireland, and using photogrammetry to construct DSMs of sinkholes in the Dead Sea, Jordan and Ailwee Mountain, Co. Clare, along with 3D visualization of sandbox models.
In 2020, he engaged in an ongoing research of the Leitrim Peat Landslide, providing post-event DSMs and comparing these with pre- and post-event DSMs.
His final year project was titled "The Solid Geology of Howth and Killiney, Co. Dublin, and Bray Head, Co. Wicklow" wherein observations were made from extensive fieldwork and satellite imagery; data was compiled, digitised and geologically-relevant interpretations were made.
DJ joined ICHEC as a summer intern in June, 2021 where he worked on providing guidelines for optimum drone image capture workflow along with building an auto-encoder for the super-resolution of Sentinel-2 imagery.
Interests
In his free time, he play games, but really serious stuff. He is an aspiring pro-player for Apex Legends (Battle Royale game produced by EA) and would love to be signed by an sports organization such as TSM. As with any sportsperson, he loves to keep training to get stronger.  Also, he is a complete Tech and Dino-nerd and so, loves to build gaming PCs, custom keyboards with the "thockiest" sounds and, loves to talk about dinosaurs. Finally, he can play the piano, guitar, violin, xylophone, sitar, harmonium, tabla, kalimba and the bass. WOW!