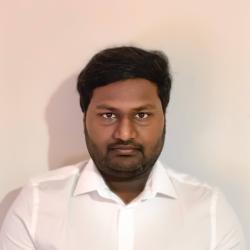 Harsha Venkata Sai Chundru
+353899459687
HPC Hub Dublin
Harsha Venkata Sai Chundru joined ICHEC in 2021 as a Computational Scientist. He has a Masters in Information Systems from University College Dublin (UCD). He is responsible for web systems development for OPW and EuroCC projects where he brings a wide range of technological expertise in both frontend and backend development.
Harsha's experience includes full stack development using web frameworks like React.JS, Node.JS and programming languages like Javascript, Java and Python. His passion toward technologies takes him to research more about industrial tools and best IT practices when time permits.
Roles:
Computational Scientist at ICHEC (present).

Full Stack Developer at Eqlizer Softech Pvt Ltd, 2017 – 2019.

Vice President at Institute of Engineering and Technology (IET) - Hindustan University, 2016 – 2018.
Working Areas & Interests:
User Interface (UI) Development

Web Applications Development

User Experience Design (UXD)

Human Computer Interaction (HCI)

Data Visualisation

Quantitative Data Analytics

Information Architecture
Education:
Masters of Science in Information Systems,
University College Dublin (UCD), Dublin, Ireland.
Bachelor of Engineering in Electronics and Communication Engineering,
Hindustan University, Chennai, India.
Interests
He loves cars particularly Formula 1 races and motorsports. Apparently, he is also foodie and when time permits he cooks delicious food (or at least that's what he thinks).