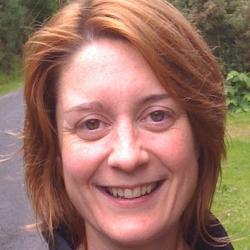 Jenny Hanafin Ph.D
Senior GIS Computational Scientist
Ph. D. in Meteorology and Physical Oceanography at the Rosenstiel School of Marine and Atmospheric Science, University of Miami
B. Sc. in Marine Science at the National University of Ireland
+ 353 1 524 1608 (ext 51)
NUI Galway
Jenny joined the Environmental Science team in April 2018, working on the ESA Validation Data Centre project, funded by the European Space Agency. 

Jenny has extensive experience in many aspects of remote sensing, from operating satellite sensors for EUMETSAT while a postdoc at Imperial College London, to developing a system to retrieve atmospheric humidity from the Geological Survey of Ireland network of GPS receivers for use in the Met Éireann forecast model. And most recently worked as Earth Observation and Modelling Manager at a leading oceanographic company in Ireland. There, Jenny was responsible for a team producing model and satellite earth observation data products and services for public and commercial users. Since 1996, Jenny has been involved in numerous international oceanographic and atmospheric field campaigns and research projects in the US and in Europe, and has been awarded research grants as an independent researcher.
Jenny is an Expert Evaluator for the European Commission H2020 Framework Programme. 
After receiving her B. Sc. in Marine Science at the National University of Ireland, Galway, Jenny studied for a Ph. D. in Meteorology and Physical Oceanography at the Rosenstiel School of Marine and Atmospheric Science, University of Miami.