SME Accelerator Programme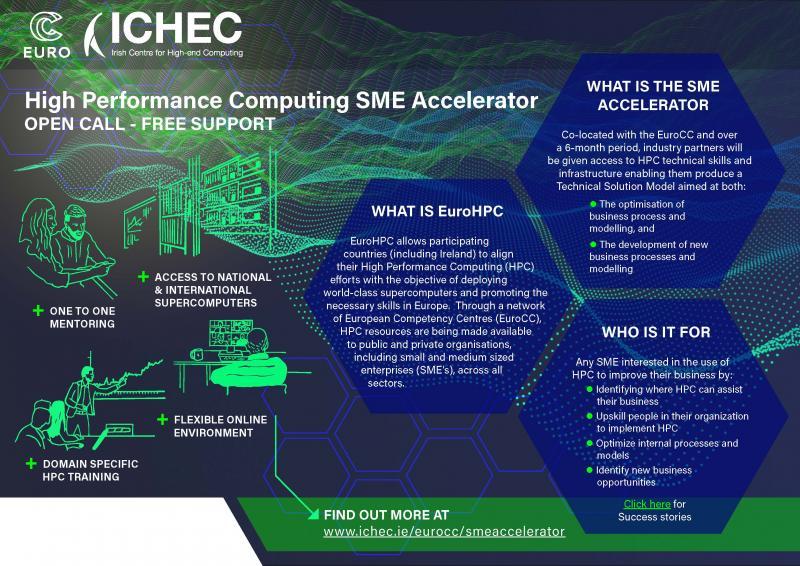 The SME Accelerator at the EuroHPC Competence Centre at ICHEC
ICHEC operates Ireland's European Competency Centre (EuroCC) allowing Irish Academia and Industry foster HPC activities including access to supercomputing resources and skills nationally and internationally.
Seven research projects are already signed up to the Academic Flagship Programme at the EuroCC. You can read about the Academic Flagship Programme here.
Four SMEs have signed up for the pilot phase of the SME Accelerator. These companies represent a range of domains and technologies and will each develop a technical solutions model over a six month period with hands-on assistance from the European Competence Centre (EuroCC) at ICHEC.
SME Accelerator Pilot Projects

Ubotica Technologies provides technical solutions in the areas of Computer Vision and Machine Learning in embedded systems at the Edge.
Telenostic specialises in animal infection testing.

Nuritas combines AI and peptidomics to discover bioactive peptides with extraordinary health benefits. 

Evercam  provides time-lapse and project management solutions for construction projects. 
Fathom is a digital transformation company. Fathom is interested in working with the European HPC Competence Centre at ICHEC to access expertise in the area of multi-data set processing, model enhancement and machine learning.
About the SME Accelerator
Background
The EuroHPC Joint Undertaking allows the EU and EuroHPC participating countries (including Ireland) to coordinate their efforts and pool their resources with the objective of deploying in Europe world-class exascale supercomputers, able to perform more than one trillion (1018) operations per second and developing innovative supercomputing technologies and applications.  The EuroCC activities—with 33 member and associated countries on board—is coordinated by the High-Performance Computing Center Stuttgart (HLRS). The project aims to elevate the participating countries to a common high level in the fields of HPC, HPDA and artificial intelligence (AI). 
Benefits for SMEs
The SME Accelerator will allow SMEs to co-locate existing staff with the EuroCC over a 6-month period, allowing them access to HPC technical skills and infrastructure. The SME will be assisted to produce a technical solution model aimed at the optimisation of either an existing business process and modelling, or the development of new business processes and modelling. The assistance provide by the EuroCC will take the form of:
One-to-one mentoring with highly skilled HPC staff employed in the EuroCC. A set number of hours will be allocated to each SME based on their technical solution model. It is expected that the SME will provide staff for at least the same amount of hours,

Access to HPC training. This will included either participation in one of a number of regular HPC training courses offered by EuroCC and ICHEC or tailored training courses relevant to an awarded businesses own technical solution model and HPC skills level,

Access to supercomputing infrastructure as well as, if necessary, a defined pathway to migrate from the national Tier-1 system to EuroHPC Tier-0 supercomputer.