SME Accelerator - How to Apply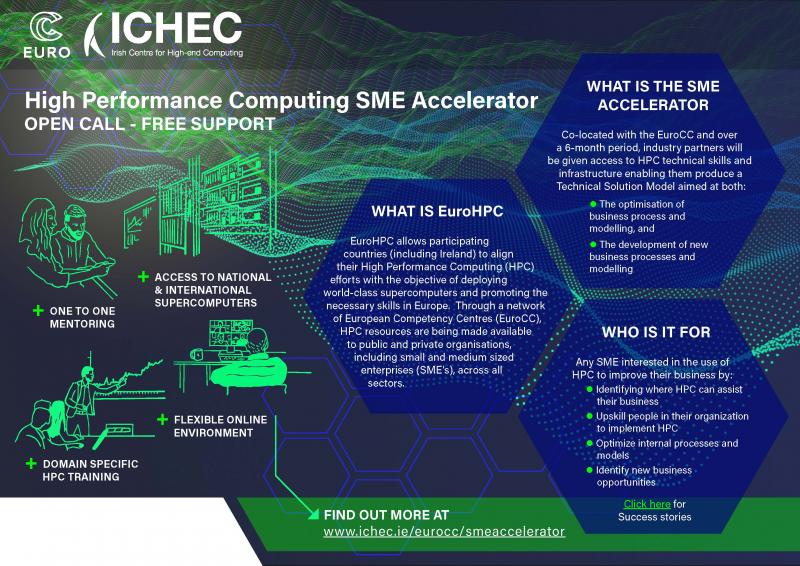 Who is the SME Accelerator aimed at?
If you are an Irish SME and believe HPC can improve your business in any way then the SME Accelerator could be for you. The EuroCC can assist you:
Identify where HPC can assist your business. (1-to-1 conversations and workshops),

Upskill people in your organization to implement HPC  to improve your business,

Optimize your internal processes and models, 

Identify new business opportunities and pivot towards these opportunities.
What does each SME have to provide?
Demonstrate the business case of the HPC or AI process to be optimised by the SME Accelerator. Guidance on the complete application procedure will be provided by ICHEC.

EuroCC_Ireland at ICHEC will allocate an agreed number of consultancy hours per week to each project. At least one member of staff from companies participating in the SME Accelerator will also need to be allocated to the project for an agreed number of hours per week. 

The companies selected will have to provide all the domain knowledge including relevant data that is required for the successful completion of the Technical Solution
Next Steps
Step 1. 

We will host an information webinar for companies interested in learning more about the SME Accelerator. Further details about this webinar will be available in the coming weeks. 

Step 2.

We will also provide pre-submission technical and business advice to interested SMEs. This will include a 1-2-1 with a technical expert to ensure technical viability and a b

usiness expert

to ensure you proposed technical solution is viable from a business perspective

Step 3 

If required, a workshop between your business and the European Competence Centre at ICHEC can be arranged.