11 June 2020
13:00 - 15:00 Irish Time
Webinar
ICHEC EU Webinar : High-Performance Computing's response to Europe's challenges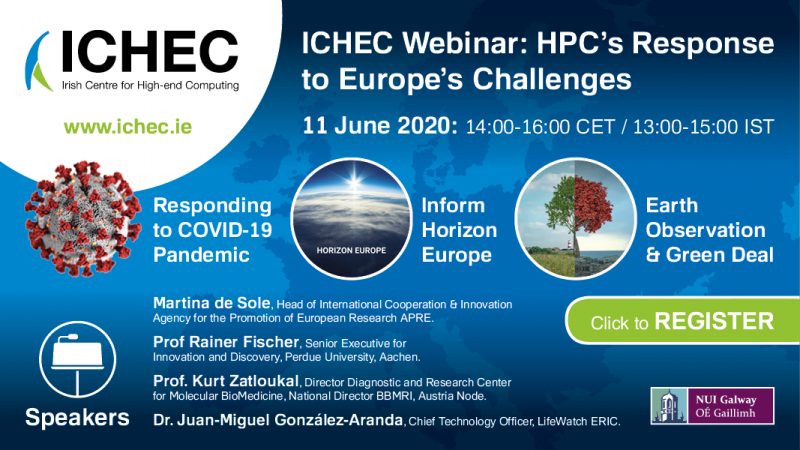 ICHEC as part of its Quantum Programming Initiative will host a webinar on 11 June 2020 which will bring together stakeholders and thought leaders to consider key trends in high-performance computing new and emerging areas of application including the global response to the Covid-19 pandemic, crisis preparedness, environment, climate. The webinar will feature speakers from across Europe, including Prof. J-C Desplat, Director of ICHEC, Prof. Kurt Zatloukal, Medical University of Graz, Austria.
As Horizon Europe and related policy mechanisms such NDICI prepare for launch on 1 January 2021, ICHEC is keen to support discussion and engagement on the effective contribution of HPC in achieving the goals of Horizon Europe, the European Green Deal and the Digital Economy.
The Commission published a communication entitled A New Industrial Strategy for Europe on 10 of March 2020, setting out its vision for an innovative and competitive Europe. This communication will need to be modified considering the Covid-19 crisis, but it does put into sharp relief the need for a re-energised industrial strategy for Europe. High-performance computing will play an important role in this.
The webinar on 11 June will focus on the following:
HPC and Horizon Europe, including ESFRI, EOSC and COVID 19;

How HPC will

support the C

OVID

19

response, including meta data analytics and AI;

How HPC can enable the EU's Green Deal, the Digital Economy and the EU's industry strategy for Europe;

Europe and UN collaboration on the SDGs: each of the SDGs can be enabled through strategic use of HPC.