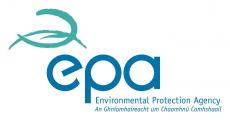 High-Resolution Climate Projections for Ireland – a Multi-Model Ensemble Approach
This project involves simulating climate change in Ireland at high spatial resolution using Regional Climate Models (RCMs). The periods 1975-2005 and 2020-2100 are simulated. The boundary data are provided by a separate EPA-funded project (PI: Paul Nolan, ICHEC/Met Éireann) which involves running EC-Earth global simulations and contributing towards the CMIP6 project. The RCMs are run at high spatial resolution, ~3.8km, thus allowing a better evaluation of the local effects of climate change in Ireland. To account for the uncertainty in future emissions, all IPCC RCP (2.6, 4.5, 6.0 & 8.5) emission scenarios are used to simulate the future climate. Through the ensemble approach, the uncertainty in the RCM projections can be partially quantified, thus providing a measure of confidence in the predictions.  
Numerous studies show that coupled atmosphere-ocean-wave models simulations result in a more accurate representation of the climate, particularly in coastal regions. For example, storm and rainfall events are more accurately simulated if the RCMs are coupled to an ocean model. In addition, these simulations provide projections of the ocean and wave climate of Ireland. A number of RCM simulations will be repeated using the COAWST (WRF, ROMS and SWAN) coupled atmosphere-ocean-wave climate model.
Running such a large ensemble of high resolution climate models is a substantial computational task and requires extensive use of the ICHEC supercomputer systems.
The research will consolidate and greatly expand on previous EPA-funded climate change research carried out by ICHEC. Findings from this study indicate that by the middle of this century:
Temperature:
Mean annual temperatures will increase by 1–1.6°C, with the largest increases seen in the east of the country.

Hot days will get warmer by 0.7-2.6°C compared with the baseline period (see Figure 1).

Cold nights will get warmer by 1.1-3.1°C.

Averaged over the whole country, the number of frost days is projected to decrease by over 50%.

The average length of the growing season will increase by over 35 days per year (see Figure 2).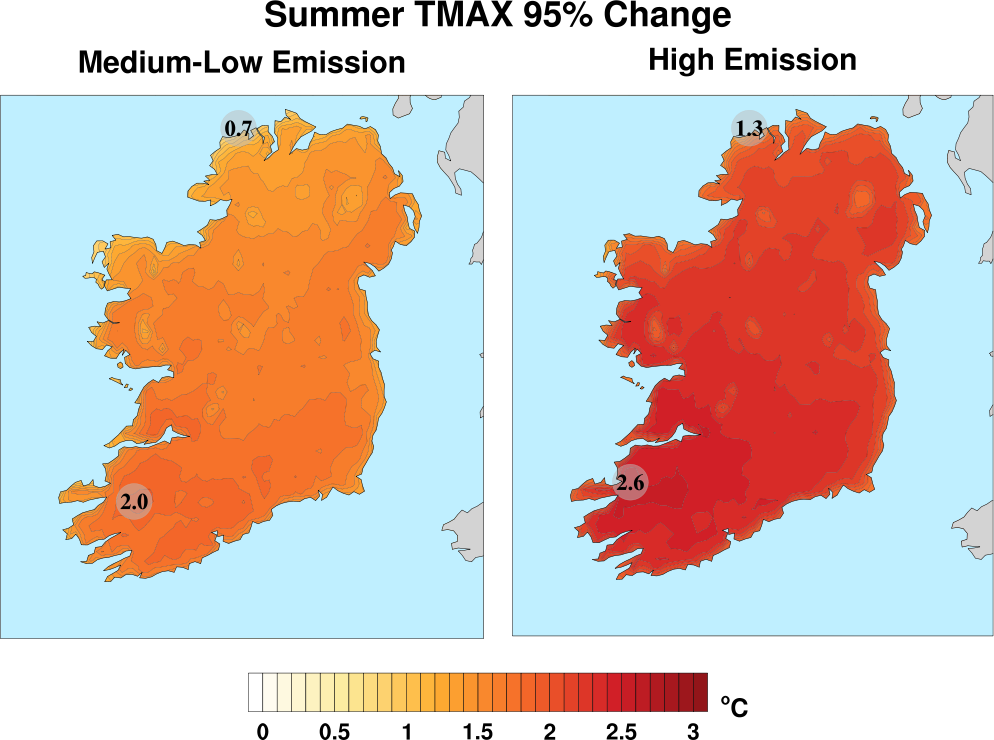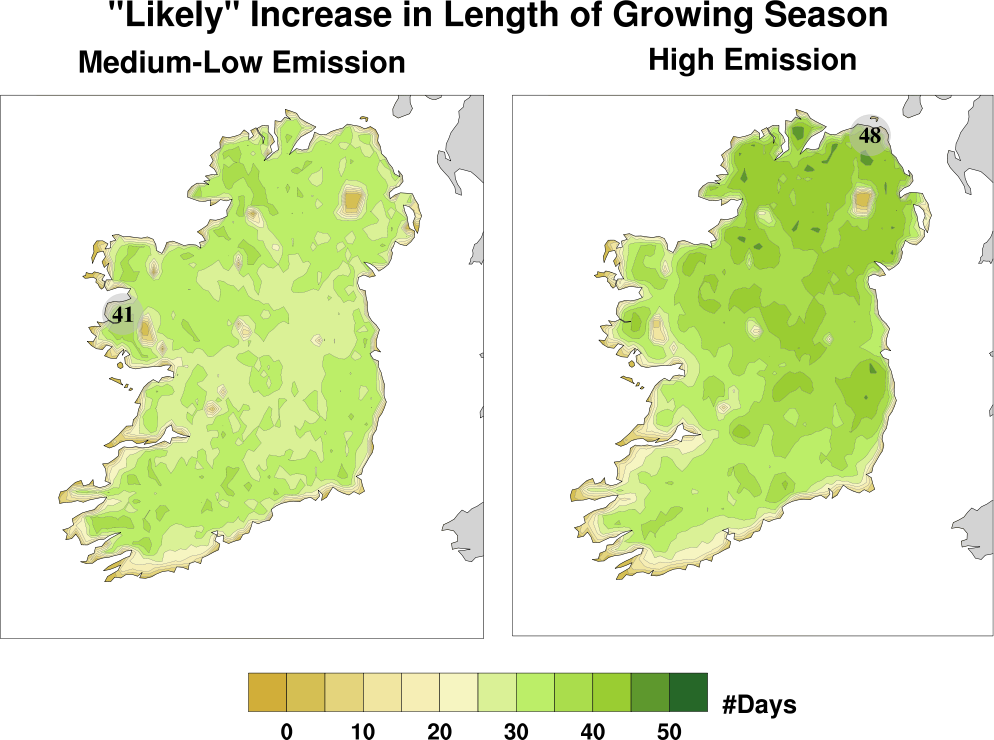 Precipitation:
Significant decreases in mean annual, spring and summer precipitation amounts by mid-century

are likely (Figure 3).

Heavy rainfall events will increase in winter and autumn.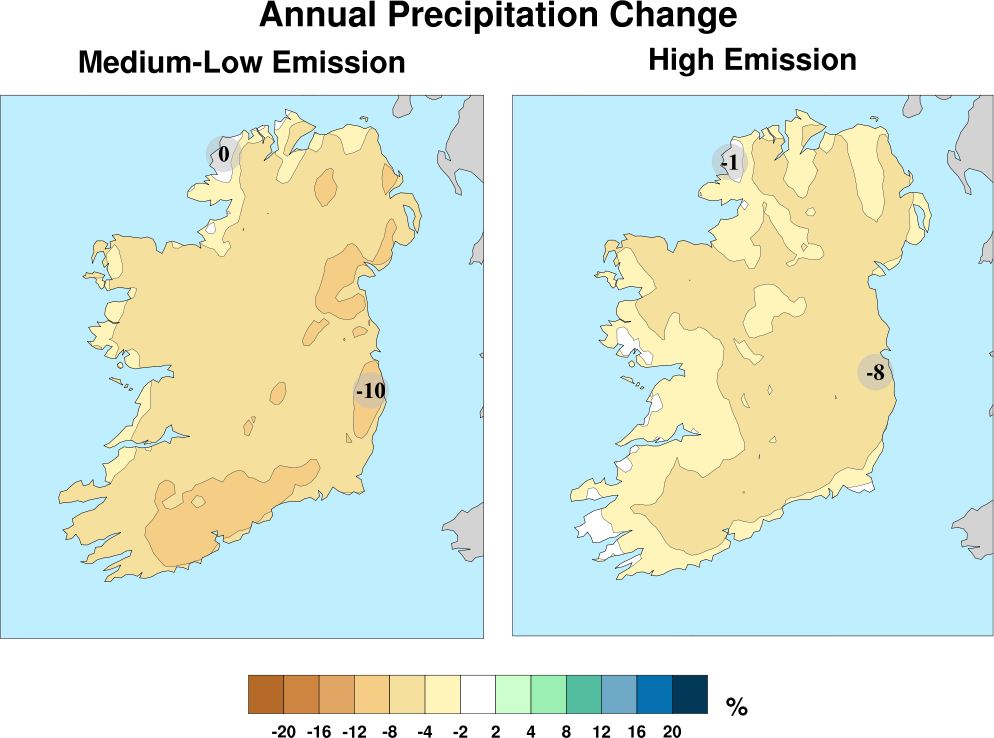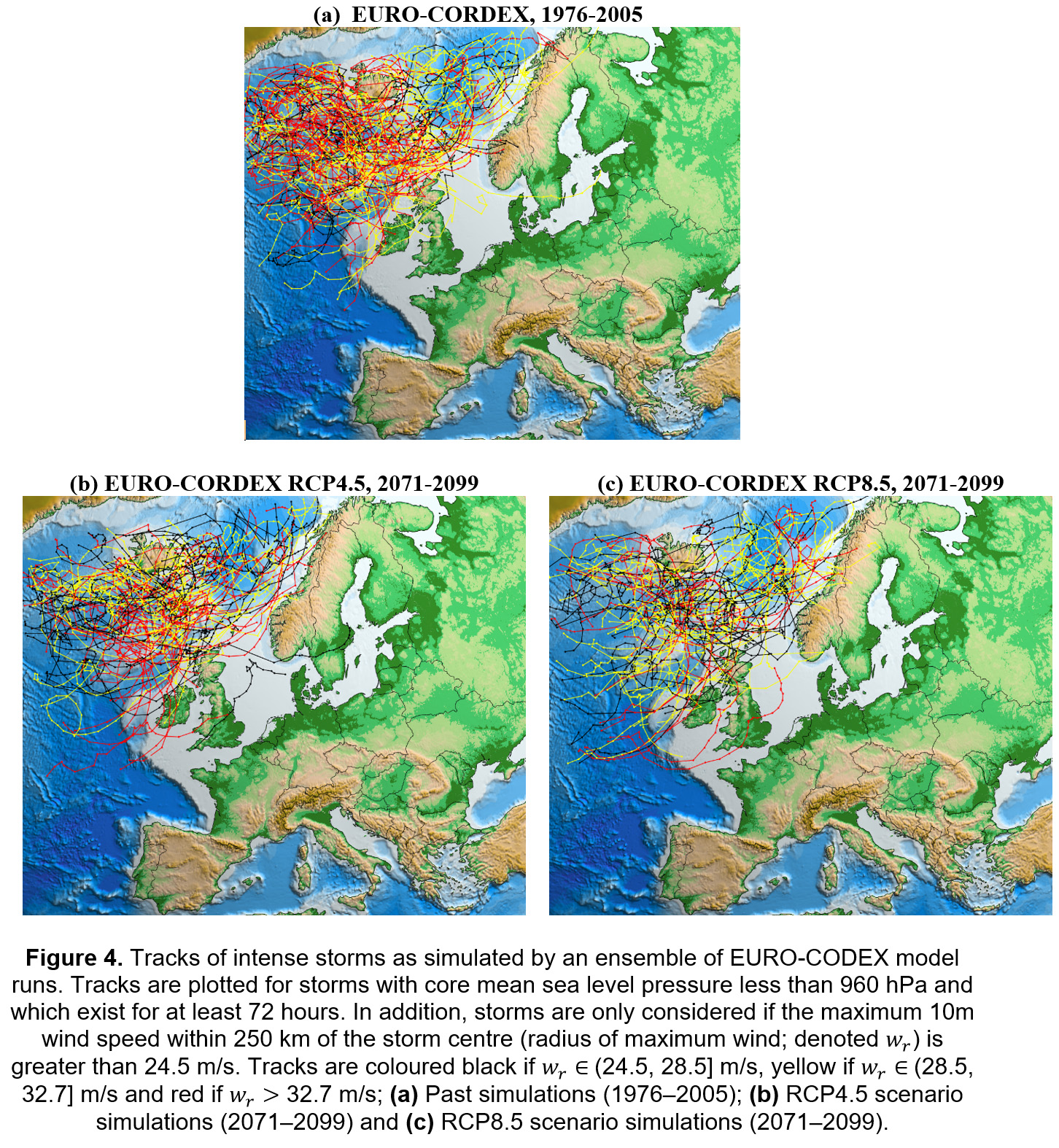 Wind Energy & Extreme Events
The energy content of the wind is projected to decrease during spring, summer and autumn. The projected decreases are largest for summer, with values ranging from 3% to 15%.

Storms affecting Ireland will decrease in frequency, but increase in intensity, with increased risk of damage (see Figure 4).  As extreme storm events are rare, the storm-tracking research is currently being extended to focus on analysing a larger ensemble, thus allowing a robust statistical analysis of extreme storm track projections

Increase in number of heatwaves by mid-century (See Figure 5)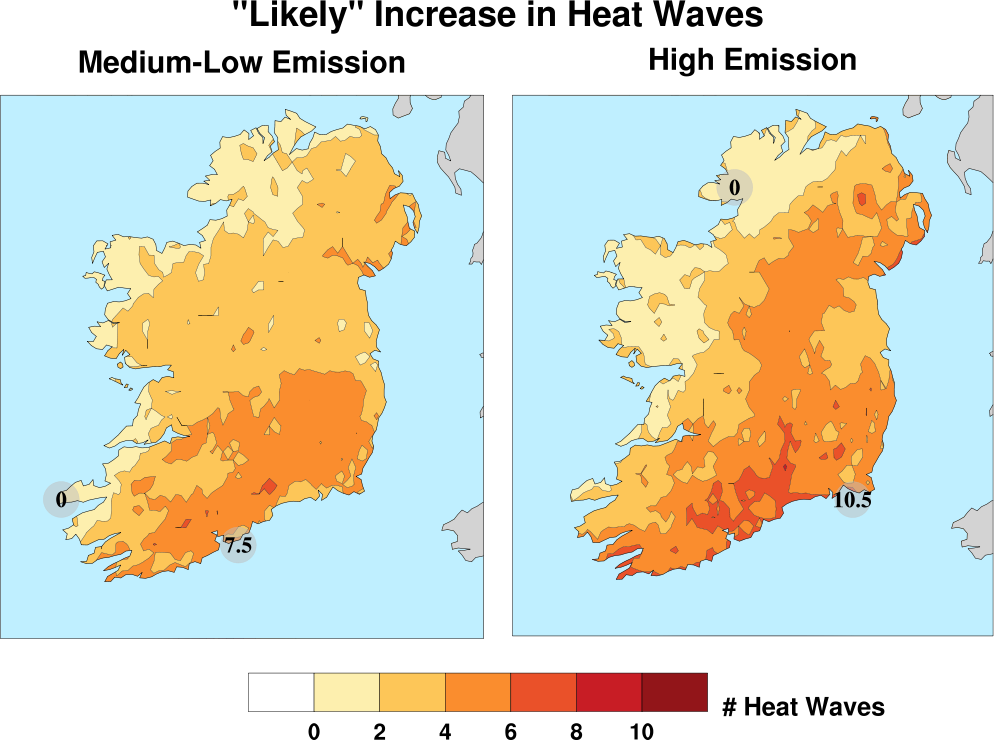 The project outputs have contributed towards numerous national studies in diverse areas such as flooding mitigation, agriculture and renewable energy.
Current Regional Climte Modelling Research:
An ensemble of downscaled RCM simulations is currently running for the period 1975-2100. This research will greatly enhance and improve the high-resolutions climate projection dataset for Ireland (presented above). An overview and progress of these simulations are outlined in Table 1. An overview of the archived fields is presented in Table 2.
Preliminary RCM projection results are presented below. The following downscaled simulations of Table 1 were used to provide an initial assessment of regional climate change; COSMO5-ECEarth (4km resolution), COSMO5-MPI-ESM-LR (4km), COSMO5-CNRM-CM5 (4km), COSMO5-HadGEM2-ES (4km) and COSMO5-MIROC5 (4km). These results will be regularly updated as the simulations of Table 1 complete. The results (to-date) are summarised as follows:
Temperature projections show a clear west-to-east temperature gradient, with the largest increase in the east. This trend is consistent with previous studies and with all RCPs, RCM-GCM simulations and time periods assessed to-date (see Figure 6). Projections of daily minimum and maximum temperature are similar.

Rainfall is projected to increase during winter and autumn and decrease during summer (see Figure 7). Again this is consistent with previous research. To-date, results show a north-west to south-east trend in the rainfall projections. However, more work is required before any regional details can be assigned with confidence to the rainfall projections.

Wind Speeds are projected to decrease during spring and summer (see Figure 8). Small increased are noted for winter but more work and simulations are required as there exists some disagreement between RCMs.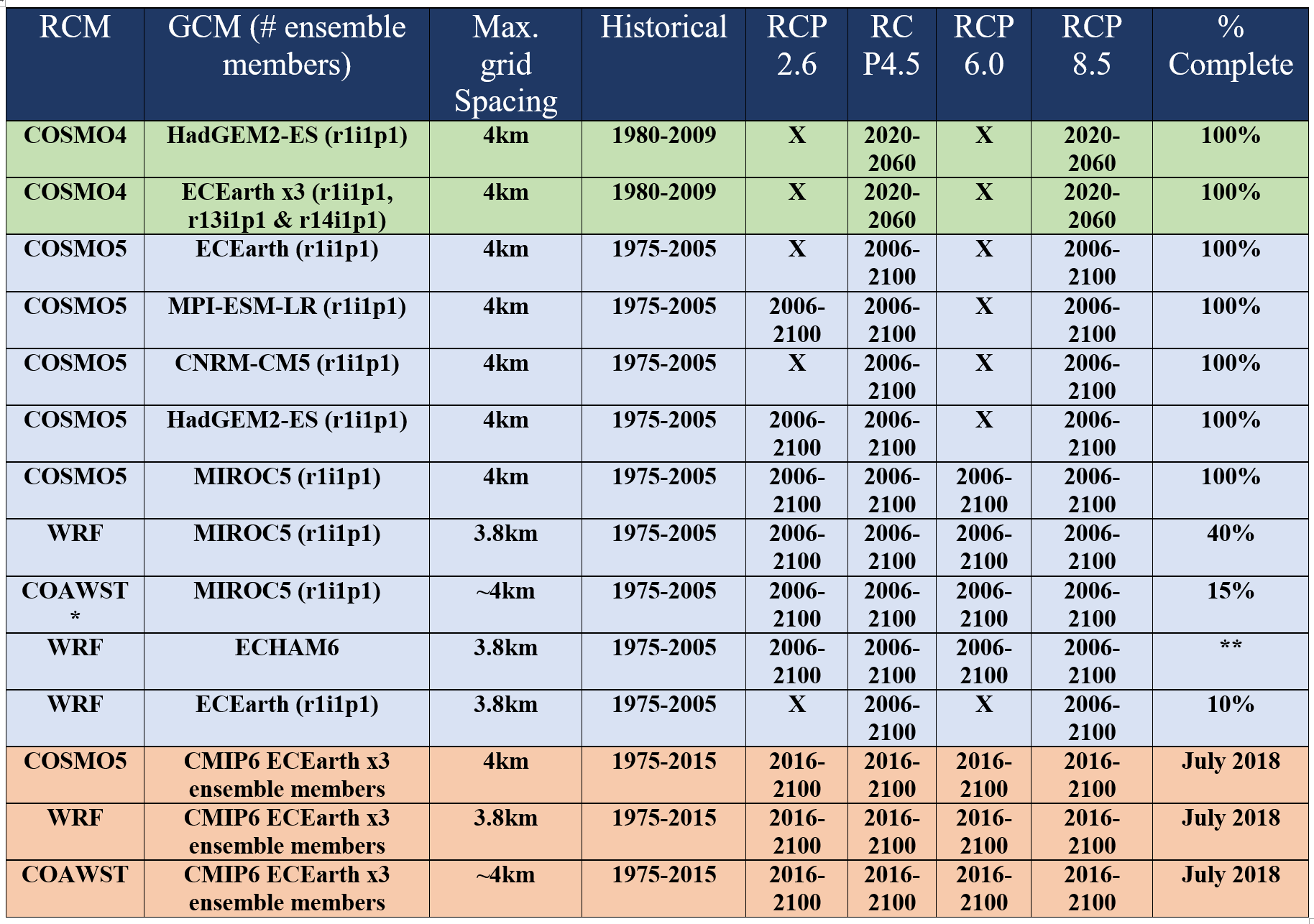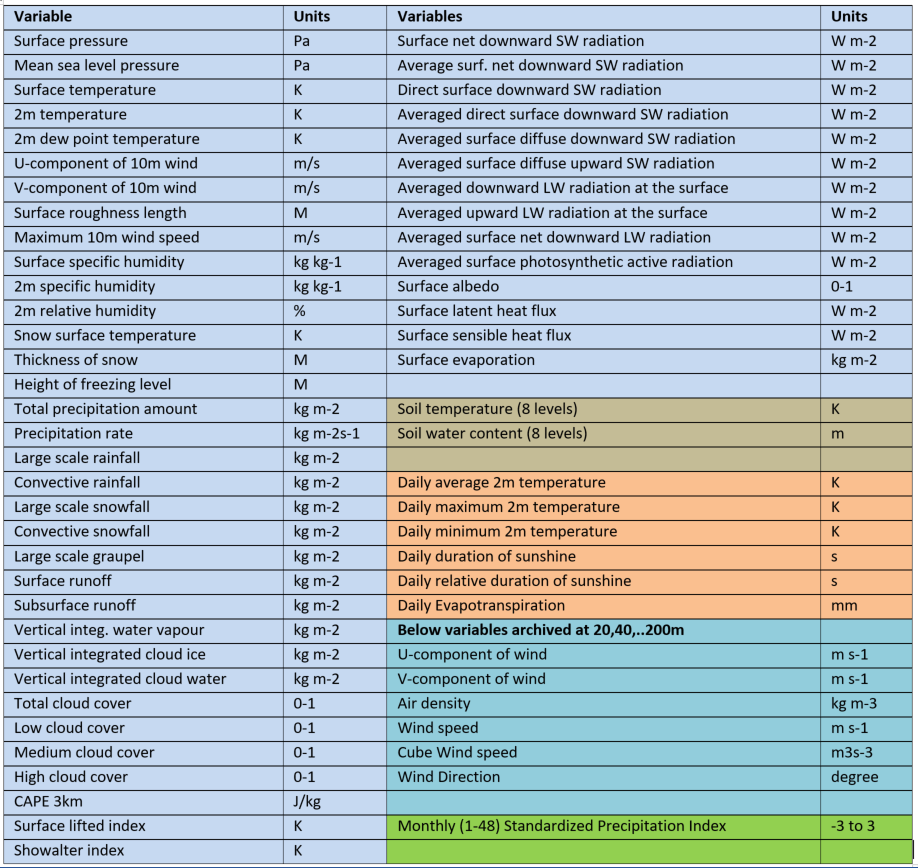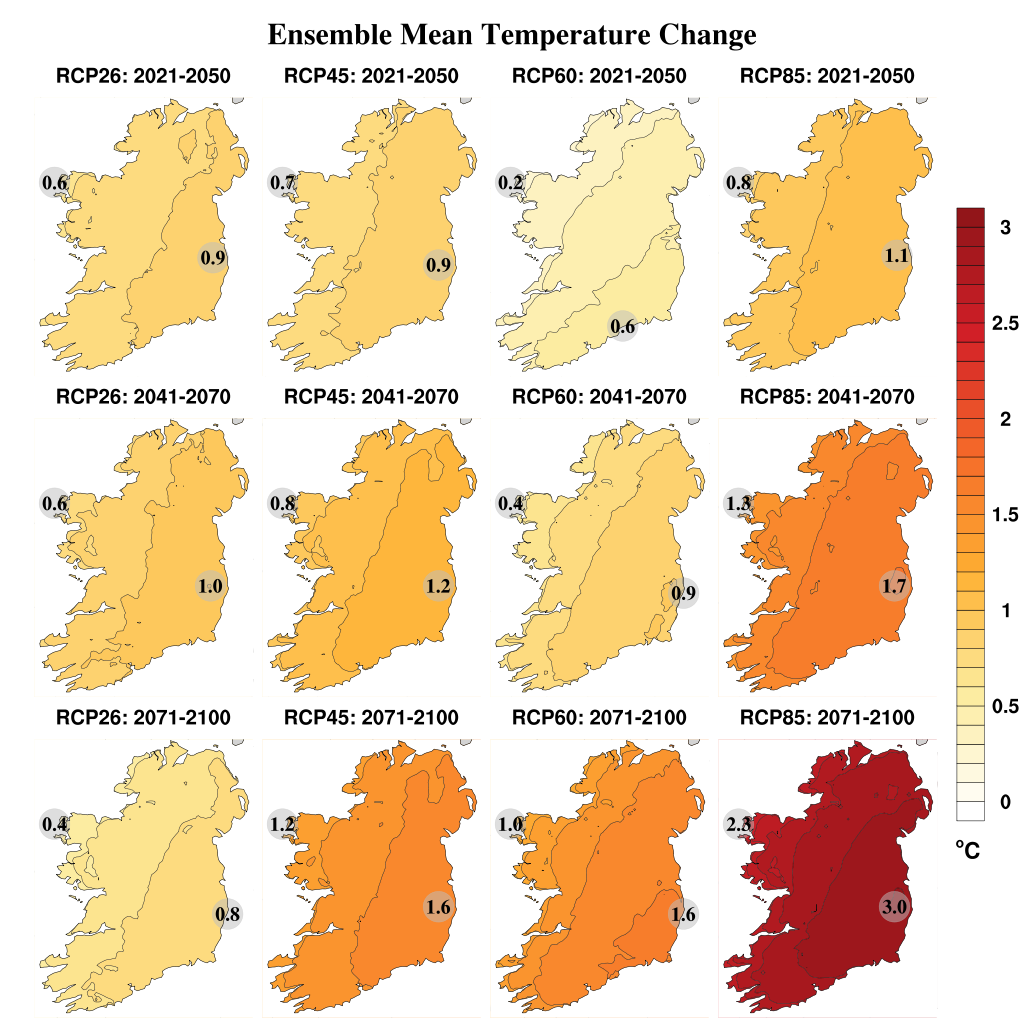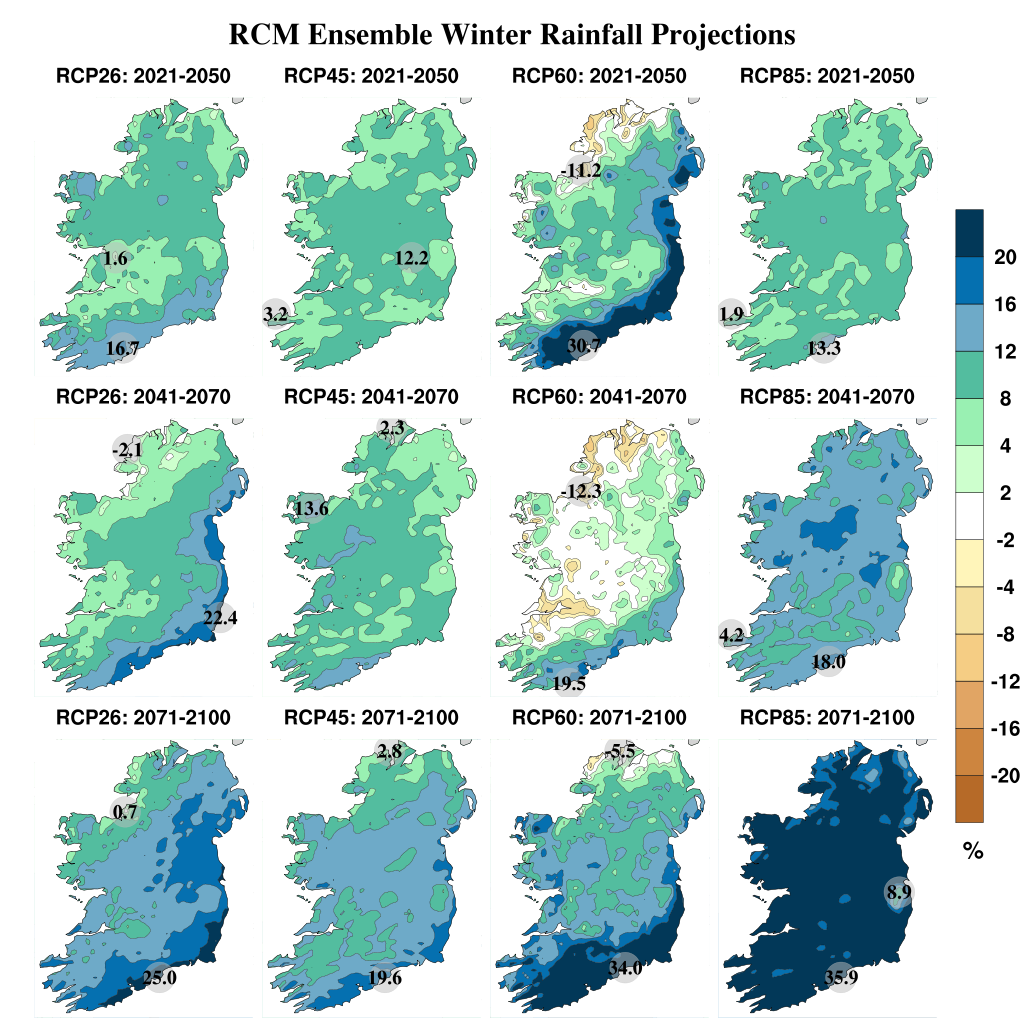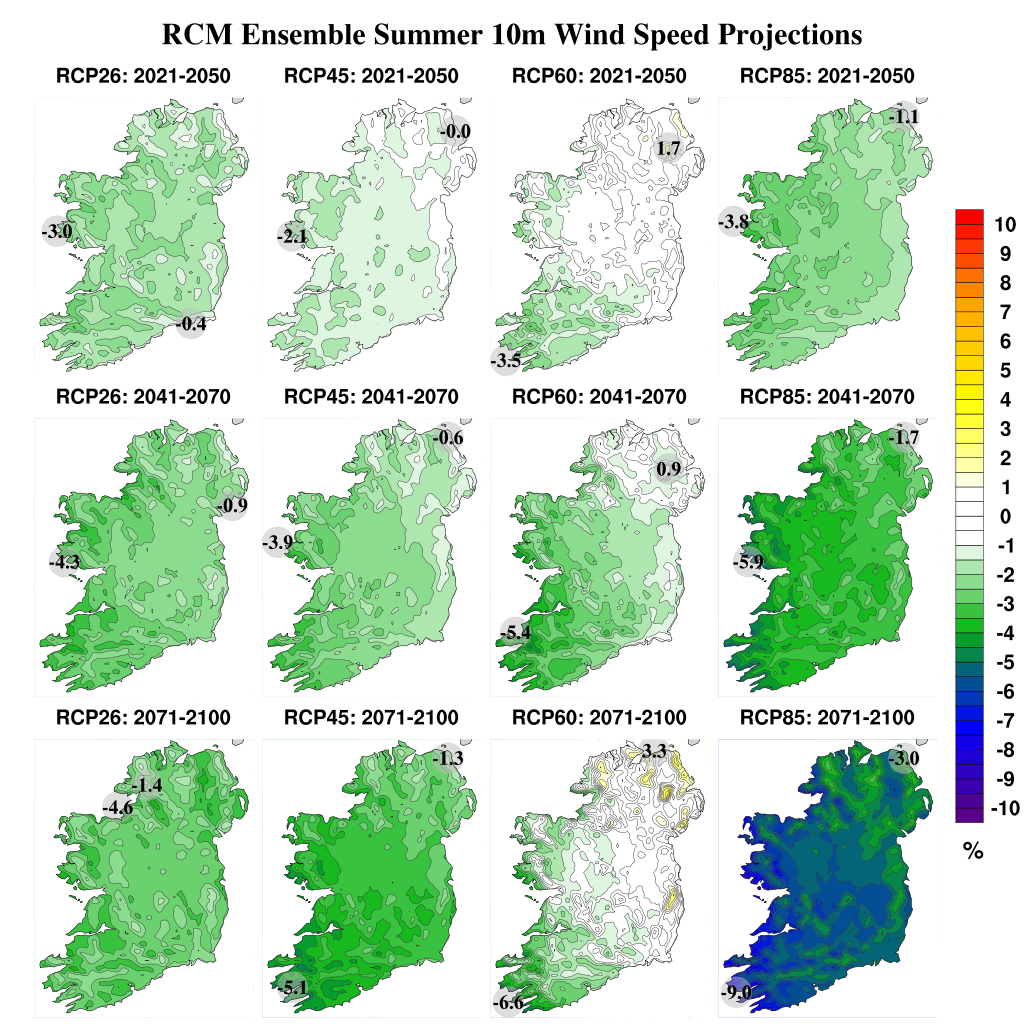 If you are interested in learning more about the project or accessing the datasets, please contact paul.nolan@ichec.ie